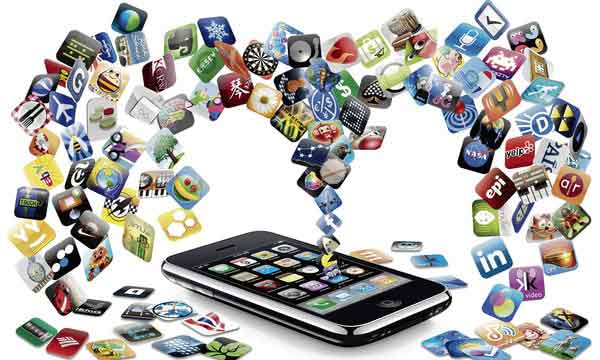 Software Development By Qvantage
Software Development is usually the most critical and expensive component for most businesses. As a result businesses are always looking for ways to lower this expense, improve functionality, and maximize overall value. We offer well-defined application development and outsourcing processes that span the complete SDLC from preliminaries to post-development support. Our proprietary processes support the distributed delivery environment that enables seamless workflow between our domestic and offshore work-teams. Application outsourcing activities are governed by detailed SLAs that outline critical service levels, quality expectations, timelines, other measurables, etc. We use agile software development methodology to maintain, develop, and deliver value added applications and business solutions to our clients. In combination our business models carry our maintenance and development teams from the inception of the idea to its final delivery, while always maintaining focus on client's needs and deliverables.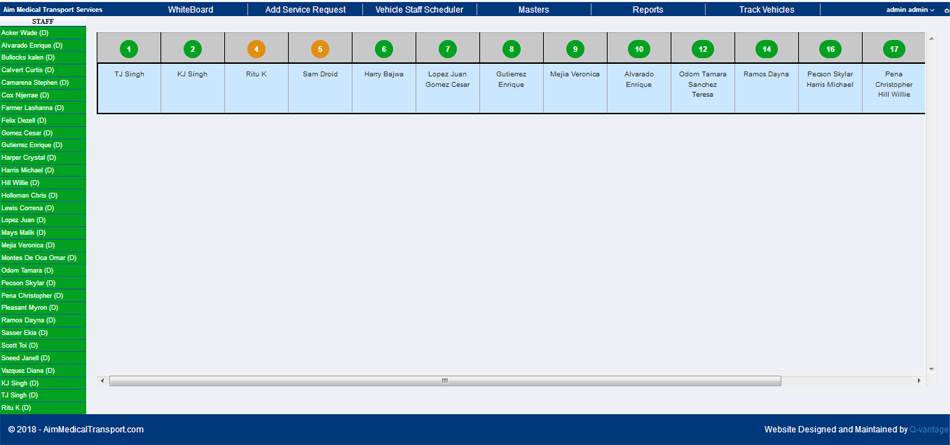 AIM Medical Transport
AIM Medical Transport Inc. is based in Riverside CA. They provide transportation services to any location in California and with necessary approvals, to locations out of the state. Their staff is carefully screened for driving safety and background; and is trained to deliver the highest standards of service and safety, both behind the wheel and while transferring the riders. Their fleet is continually maintained and updated so their riders can enjoy safe, reliable and comfortable trips. Their equipment is sanitized after every use, and vehicles are inspected daily before every shift.
Project Brief: Q-vantage has created their fully responsive website. An android app, to be used by their drivers, is in development for improving administration of the non-emergency medical transportation requests they receive. This app will also facilitate monitoring and tracking the fleet of vehicles in real time.
Technology Used: ASP.Net MVC with c#, Web Api, MS Sql Server, Html 5, CS3, JavaScript for web and Java with Android SDK for android app.
Contact Us Today:
1-888-788-3247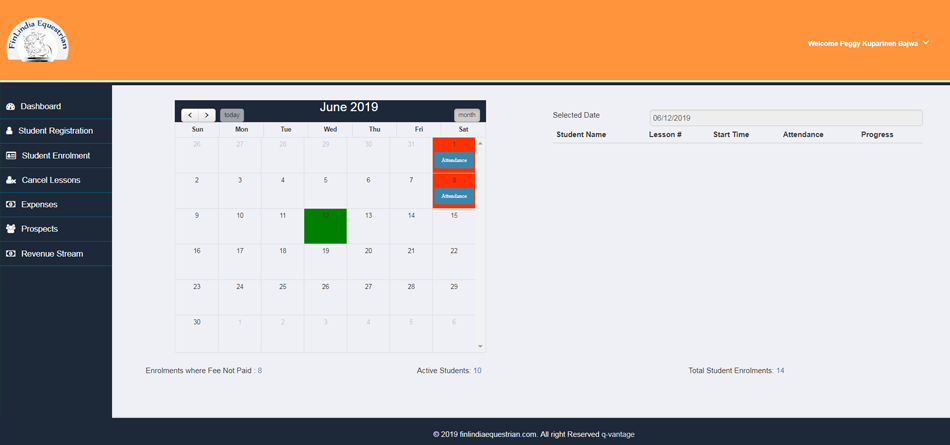 FinLindia Equestrian
FinLindia Equestrian, while imparting training for horse riding, focuses on cultivating riding skills and passion in Young Riders and Adults alike. Peggy Kuparinen Bajwa is an English Equestrian riding instructor who began riding horses at the age of 10 in Rancho Mirage, California at Equestrian Centers International (ECI). Peggy's family has had a long love affair with horses that started in the late 1800's in Finland, where her great grandfather raised trotters for harness racing.
Project Brief: Q-vantage has prepared a responsive website for Finlindia Equestrian as also a mobile friendly web app to help the trainees register for horse riding classes. The parents of trainees can view attendance and training progress of their wards online.
Technology Used: ASP.Net with c#, MS Sql Server, Html 5, CS3, JavaScript.
Contact Us Today:
1-888-788-3247